Autumn Festival
There will be a series of concerts in October on Sundays at 6pm at All Saints' Church.
1st Oct: Students of Linda Hannah and Emily Blyth
8th Oct: Choral Evensong (at 6.30pm)
15th Oct: 'Autumn Serenade' with Jayne Strand, Jeremy Valentine, Michel Kallipetis accompanied by Christopher Goodwin and Linda Hannah
22nd Oct: 'Autumn Recital' with Linda Hannah and Eralys Fernandez
29th Oct: 'Gilbert & Sullivan' concert with soloists from Opera Piccolina led by Christopher Goodwin. Come and join in with the chorus from 2pm.
See posters and flyers for more information. All tickets free, retiring collection in aid of essentials repairs to all Saints' Church.
Reserve your free tickets online at www.allsaintschurchmusic.co.uk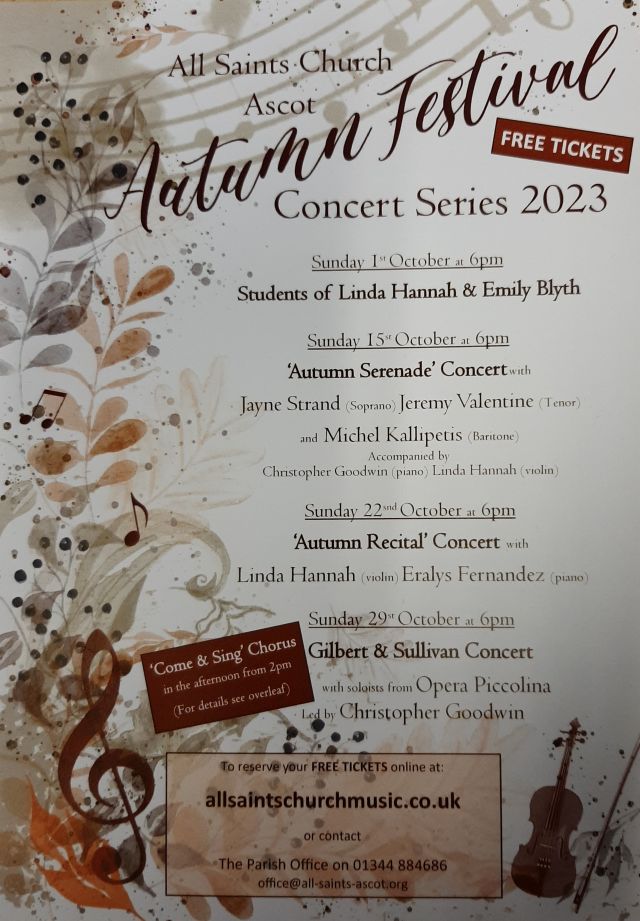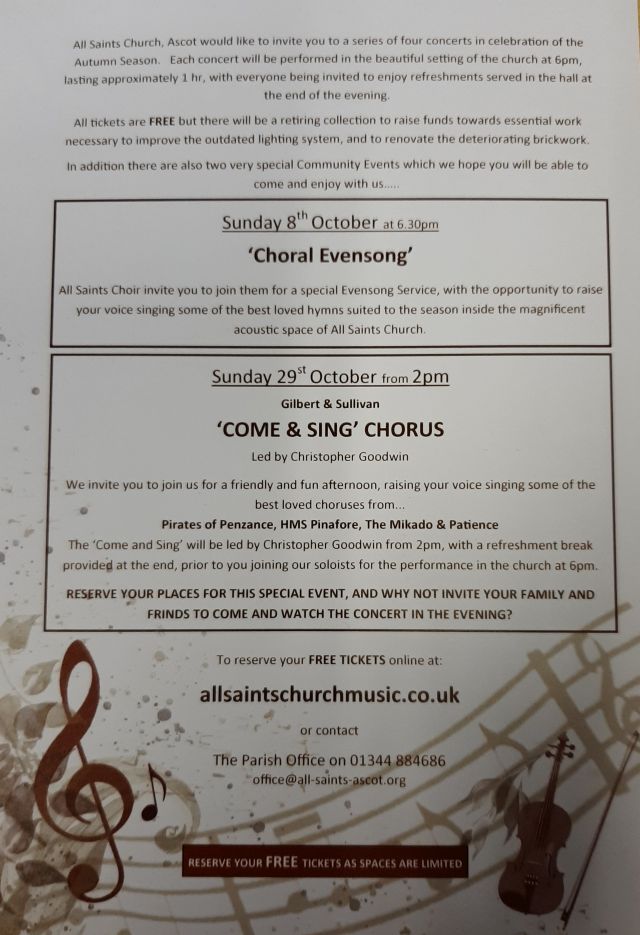 Heritage Open Day Saturday 16th September 2023 10.30am - 4.30pm
Visit this Grade 2 listed Victorian Parish church with unexpected wall paintings and windows.
This beautiful church was designed by T H Rushworth and built in 1864 of red brick and Portland stone .
It is an example of Victorian church architecture situated at the roundabout of the A329 (London Road) and A332 (Windsor Road) near Ascot Race course and the site of the old Heatherwood Hospital.
Internally one's eye is taken by the splendid wall and chancel ceiling paintings (Heaton, Bayne and Butler) and other original features including stunning stained glass windows.
There are also many memorials to heroes and parishoners both inside and outside.
The Friends of All Saints' Church are sponsoring Heritage Open Day at All Saints' Church on this day (which is not fund-raising). The church is open to the public with tours, refreshments and a children's quiz. Helpers are needed to make and serve tea/coffee, provide cakes and above all to welcome friends and neighbours from near and far into our building; it is an important part of our outreach. There are sign-up lists for cakes and helpers at the back of church and the chapel. Further details from Pat on pat.gunton@all-saints-ascot.org or the church office.
Linda and Emily At Christmas
Linda and Emily have recorded an album of Christmas carols and festive songs, which is available on CD or download for a suggested donation of £10. All proceeds will be donated to Pilgrim Hearts Trust and to the Rector's Discretionary Fund. Copies now on sale! Donate via Paypal at https://tinyurl.com/AllSaintsCD and you'll be sent a link to download. Also donate via the QR code below.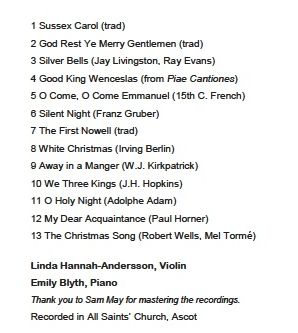 Invitation to Lunch
Thanks to all who helped with the Tuesday Community Lunches. We hope to resume in Autumn 2023.
We are grateful to Hatfield's Garage for their sponsorship.
The Obituary of John Swingler, a member of All Saints in the early 2000's, and who died earlier this year, can be found here.
John was a regular member of the church band, playing the clarinet. He was also deeply involved in preparing the current church guidebook, and kindly left a bequest to The Friends of All Saints, for which we are most grateful.
Thank you to all those who have donated to the church for the DEC Ukraine Appeal.
The amounts collected, to date, are as listed below:-
Bucket collections £147.50
Messy Church collection £30.00
Individual Donation £100.00
Tea-time concert 18/5/22 £646.00
Tea-time concert 25/5/22 £389.10
Tea-time concert 8/6/22 £240.00
Total amount collected £1552.60
The amounts raised for the DEC Ukraine appeal by the recent teatime concerts are as follows -
14th Sept - £1020;
21st Sept - £190;
28th Sept - £73;
5th Oct - £113;
12th Oct - £85.
With Gift Aid added we will have a total of £1,768.25. Thank you for your support.
As we pray for the people of Ukraine and a peaceful outcome, please consider making a donation towards the DEC Humanitarian Appeal. This will aid the agencies working to provide support for refugees in desperate need.
https://www.dec.org.uk/appeal/ukraine-humanitarian-appeal
DEC charities are in Ukraine and neighbouring countries meeting the needs of all refugees and displaced people:
£30 could provide essential hygiene supplies for three people for one month

£50 could provide blankets for four families

£100 could provide emergency food for two families for one month

By donating to the Ukraine Humanitarian Appeal, you'll help DEC charities provide food, water, shelter and healthcare to refugees and displaced families.
Archbishops' statement on Ukraine - "The horrific and unprovoked attack on Ukraine is an act of great evil. Placing our trust in Jesus Christ, the author of peace, we pray for an urgent ceasefire and a withdrawal of Russian forces. We call for a public decision to choose the way of peace and an international conference to secure long term agreements for stability and lasting peace. We invite Christians to make this Sunday a day for prayer for Ukraine, Russia and for peace. We also give our support to the call from Pope Francis for a global day of prayer and fasting for peace on Ash Wednesday, March 2."
Archbishop Justin Welby & Archbishop Stephen Cottrell
Bishop Steven shares a message and a prayer for peace in Ukraine on the Diocesan website
https://www.oxford.anglican.org/news/prayers-for-ukraine-and-for-peace.php

God of compassion,
Have mercy this day on the people of Ukraine.
Restore to them the gift of peace.
Grant wisdom to the governments of the world.
Bring good in the midst of evil and suffering,
For the sake of Jesus Christ your Son,
Who gave his life to bring peace to your world.
Amen.
For the latest news about church services from All Saints (also held online via Zoom) and Parish information, please see our dedicated Service Resources page here.
---
Prayer
Loving God,
We pray for all those who are suffering because of the coronavirus, may they know your healing power.
When we are afraid for ourselves and our loved ones, give us your strength and courage.
When we feel alone and isolated, reassure us with a sense of your presence.
Give wisdom to those in authority and may our community work together for the good of all.
We give thanks for those who care for others and ask you to bless them in all they do.
We ask this in the name of Jesus, healer and physician.
Amen
Revd Gill Wiggins
A memorial plaque was installed in the Lady Chapel at All Saints' Church on 28th January 2018.
From the Candlemas service that day -
"Candlemas is the linchpin of the Church's year, the day on which we turn from our celebration of Christmas to our celebration of Christ's passion and resurrection. Today we look back and we look forward. As we look back, it is right and proper that we should remember Gill Wiggins, a faithful lay minister and then associate priest in this parish. Gill herself would want our focus to be not on her, but on Christ. Nonetheless, as we keep our celebration of Simeon and Anna's joyful reception of the Christ-child in the Jerusalem temple of old, it is also right that we remember and celebrate Gill's faithful service in this temple here in Ascot."
"Almighty God, we remember before you today your faithful minister and priest Gill; and we pray that, having opened to her the gates of larger life, you will receive her more and more into your joyful service, that, with all who have faithfully served you in the past, she may share in the eternal victory of Jesus Christ our Lord. Amen."